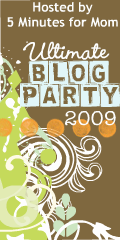 Five minute for Moms is holding the Ultimate Blog Party 2009!
It's time party, Bloggers!!
This is a GREAT way to get your blog out there to share it with others, and also to take a peek at what others are blogging.
Today is the last day so make sure you go now and take a look!
There are over 100 prizes you could win!
(Wow, ANOTHER REASON to go check it out!!!)
#58 Kitchen Aid Artisan Stand Mixer
#68 gift certificate for Christian book distributors
#19 $50 gift certificate to Target Stores
#85 Decorative Pillow, Country Primitive Style, Says "Family"
#123 $20 Gift Card to Kohl's
109 — $30 Stampin' Up Prize pack
So what are you waiting for??
There are great people with great blogs, not to mention tons of prizes

.